Production Management

$

59per user, per month
$29 per technician user
Hosted Server + 60GB of storage
Email Integration
Production Tools
Production Reports
Mobile App Connectivity

Financial Reporting

Bonus Manager
Business Management w/QuickBooks Integration

$

79per user, per month
All Production Management features plus…

Hosted Server + 60GB of storage

Email Integration

1 QuickBooks File integration
Complete Job Costing
Collections Tools
Financial Reporting
Bonus Manager
Simple cost calculator:
Each plan includes 1 administrator user, and 1 technician user.
1
Users that require access to everything
1
Users that require access to production tools only.
Sales and Marketing
---
Track and Improve Your Marketing Efforts with Unparalleled Insight
Chronicle's sales and marketing tools let you manage all of your contacts and deals without messy notes and spreadsheets. Our mobile apps are used to get contracts signed, log expenses, notes, and conversations with leads. We then analyze the results and show you the effectiveness of your efforts.
Sign Contracts
Get Contracts Signed
---
Our mobile apps make it easier than ever to get contracts signed in the field. With a monthly subscription to Right Signature, you can maintain momentum in the sales cycle.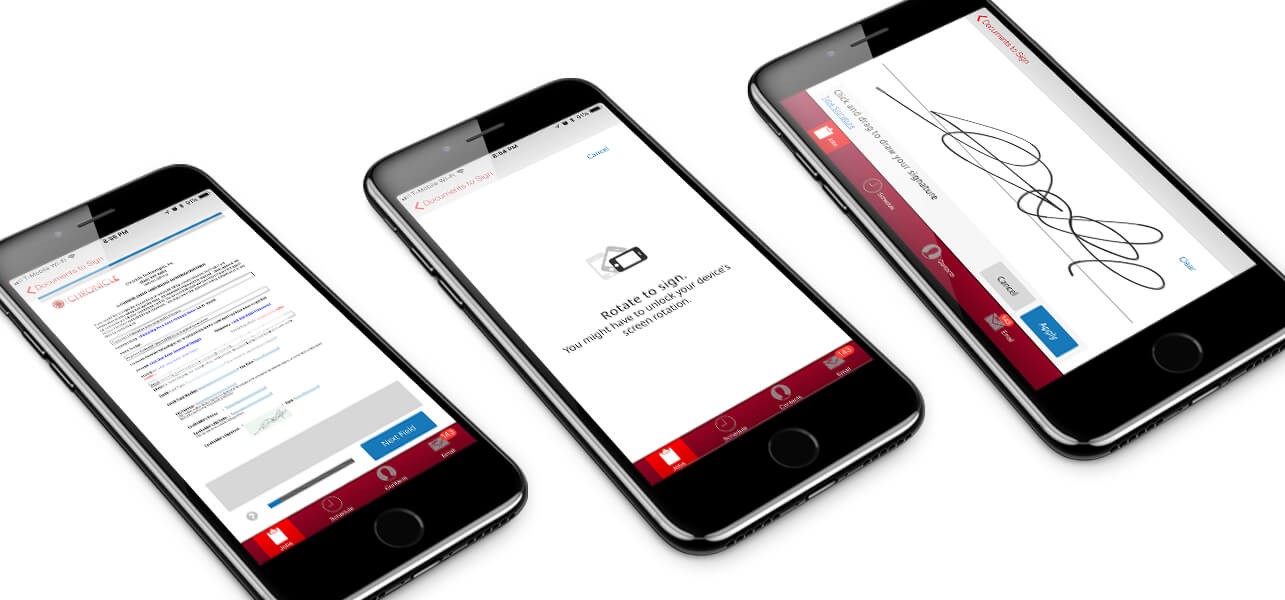 Marketer Performance
Marketer Performance
---
The Marketer Performance report allows you to see if your marketers are reaching the bench marks that you put in place. Then you can compare that to the jobs that have been received.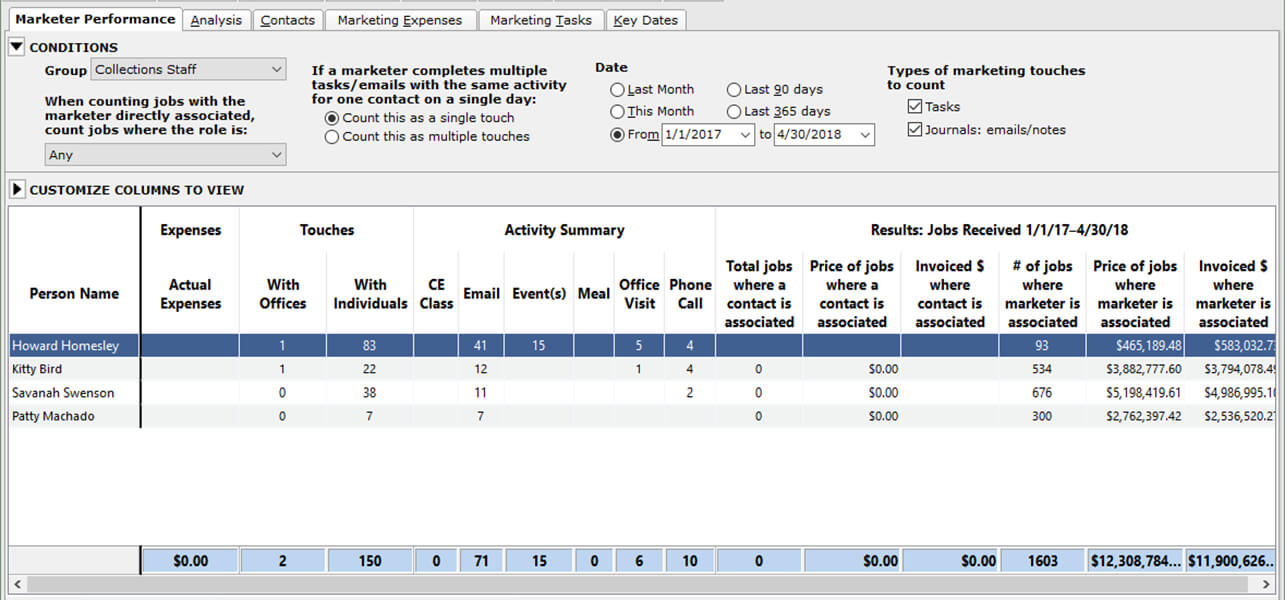 Contact Analysis
Contact Analysis
---
The Contact Analysis report is designed to help you evaluate the connection between what you invest and your results. It shows what's being done and whether it's working.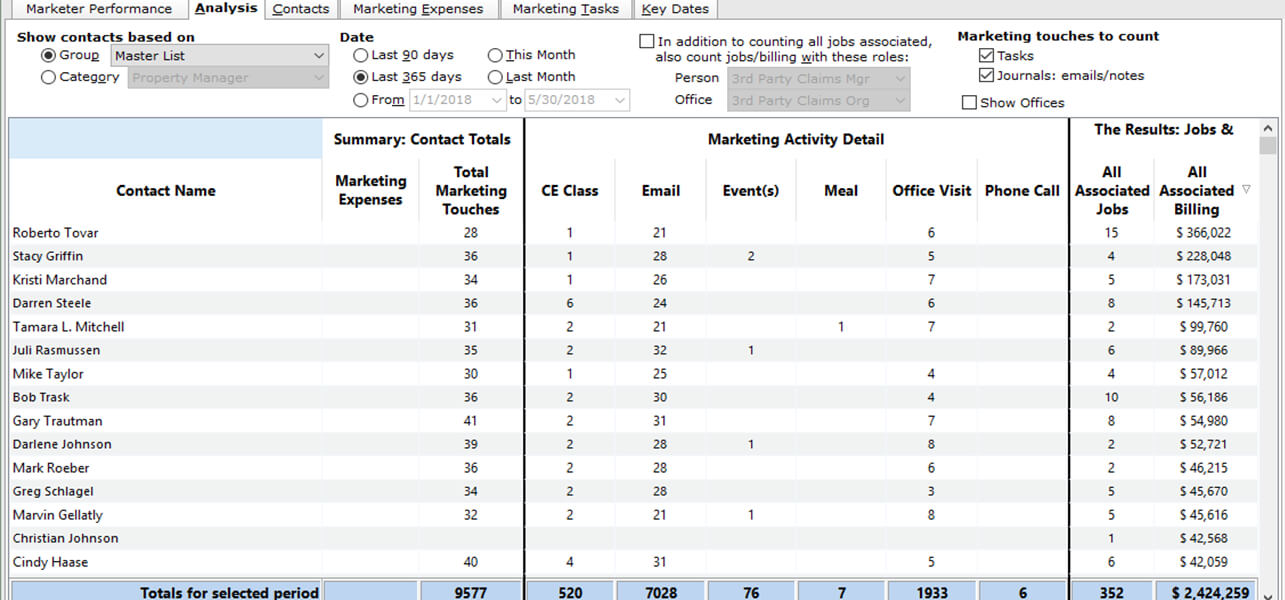 Follow Up/Notes
Follow up/Notes
---
From a single screen you can record individual detail about the contacts in the group such as activity, notes expenses, and what future actions you want to take and when.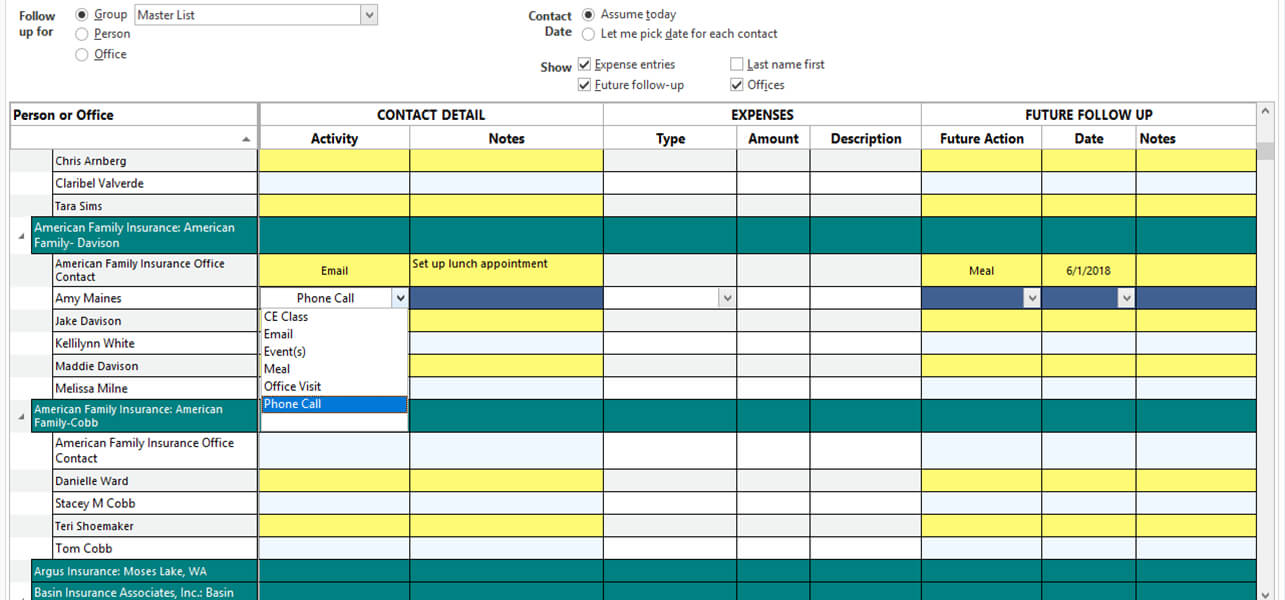 Key Dates
Key Dates
---
The Key Dates report lets you find people with key dates in the date range you choose. You can single out particular types (like birthdays) or dates assigned to particular people.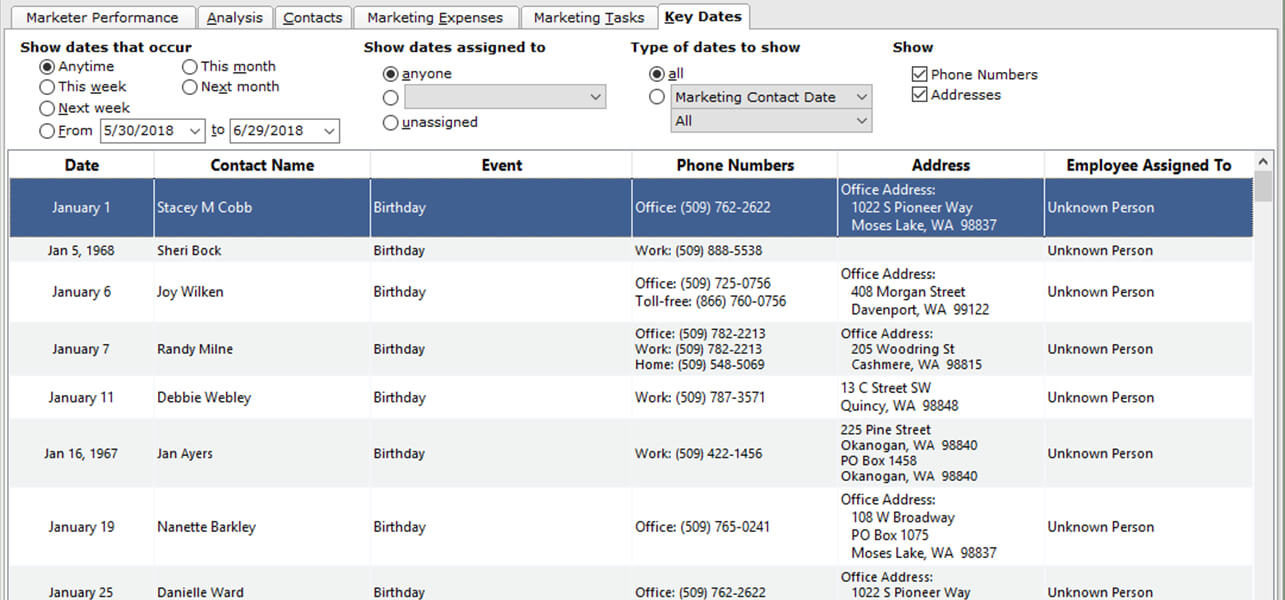 Expenses
Expenses
---
The Marketing Expenses report lets any marketer generate an expense report. It also lets owners/marketing managers evaluate expenses for any date range. You can filter this report by person and/or type of expenses.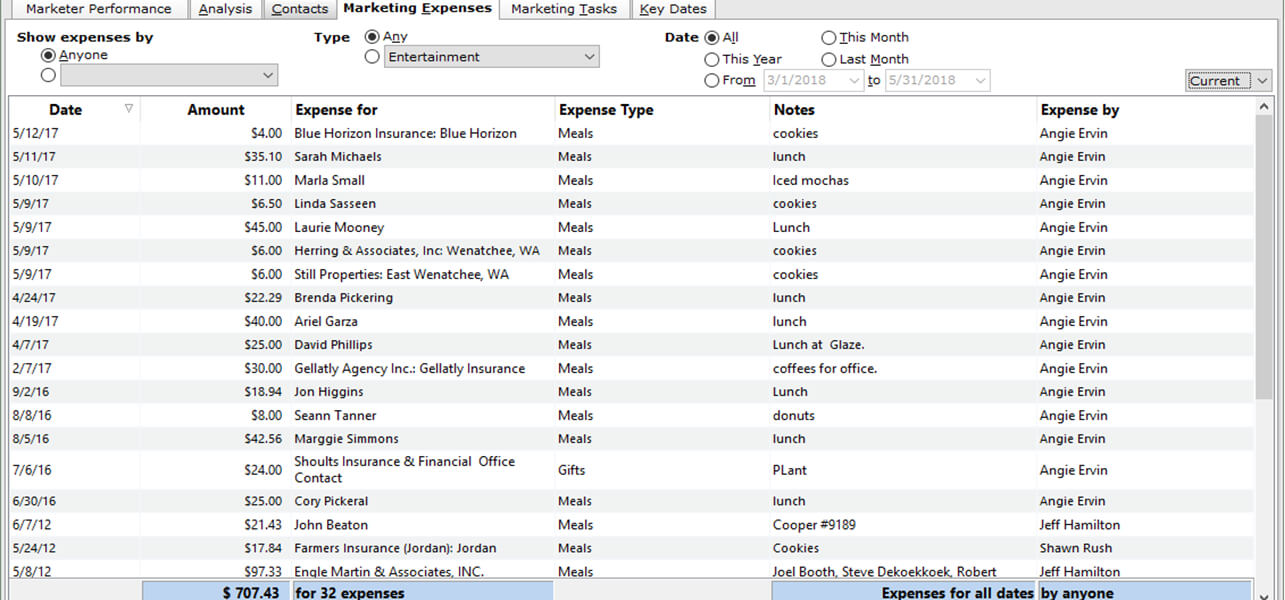 Completion Rates
Completion Rates
---
The Completion Rates report shows the sales performance of each sales person, and job source. Everything is taken into account: Initial bid, Sold amount, Cancellation percentages, Averages, and Totals.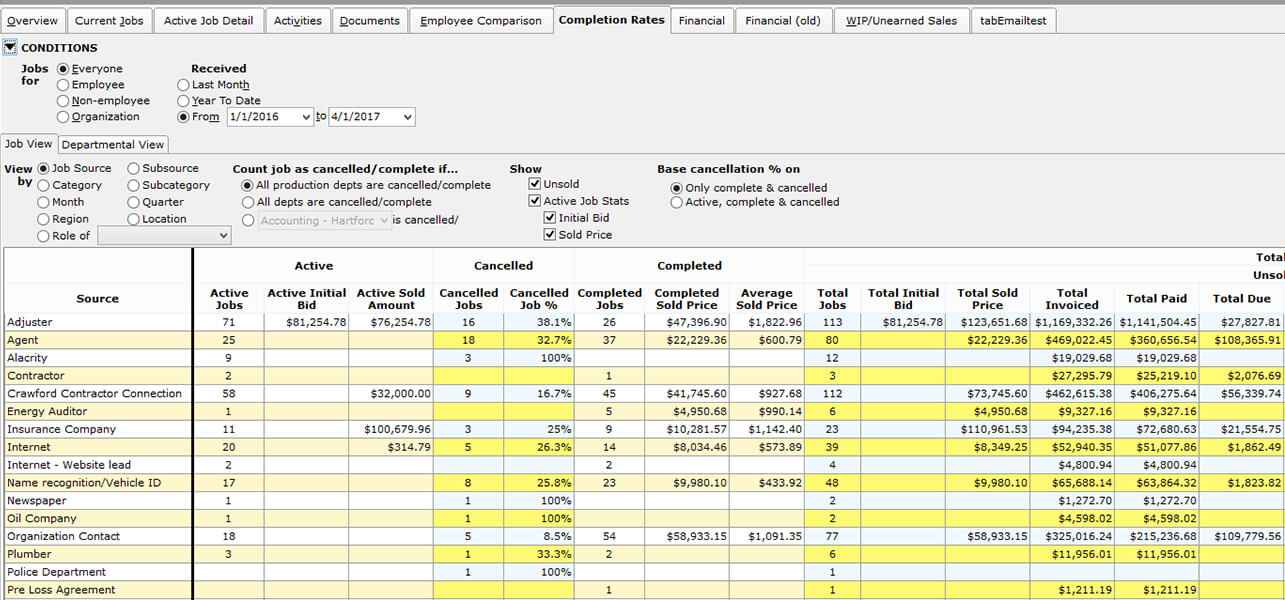 Production
---
Increase productivity. Communicate better. Make more money.
Chronicle production tools make it easier to increase productivity, transparency, and better communication on your jobs. Manage custom job activities, schedule teams, track labor hours, monitor job costing, and more.
Job Files
Detail Rich Job Files
---
Focus on the task at hand by readily having job details, progress, notes, conversations, and photos being readily available at any time. These tools make it easy for your project managers to manage teams, and guide the progress of each job from beginning to end.
Email Connectivity
Seamless Email Integration
---
Chronicle keeps record of every job related email. We let you connect any number of IMAP accounts so you can easily have one place to execute and store all job related communications.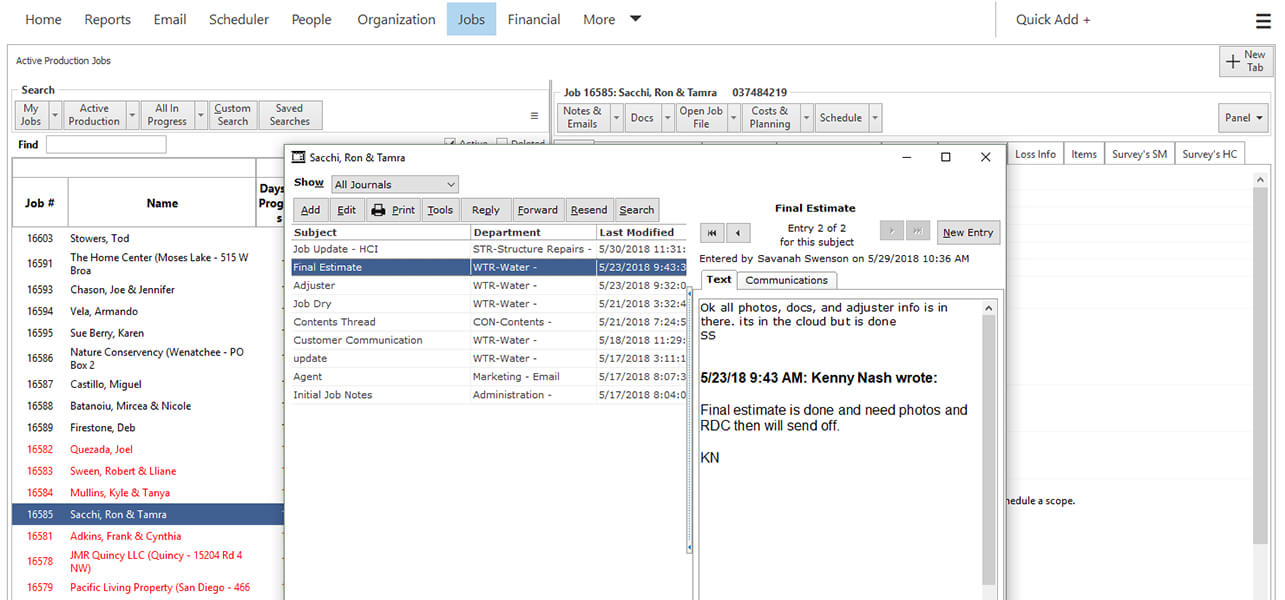 Calendar/Scheduling
Schedule your teams with ease
---
Schedule and notify your team about new activities at any time. With a click and a drag events are created. Select a job and employee and they'll see the event you created on their personal calendar.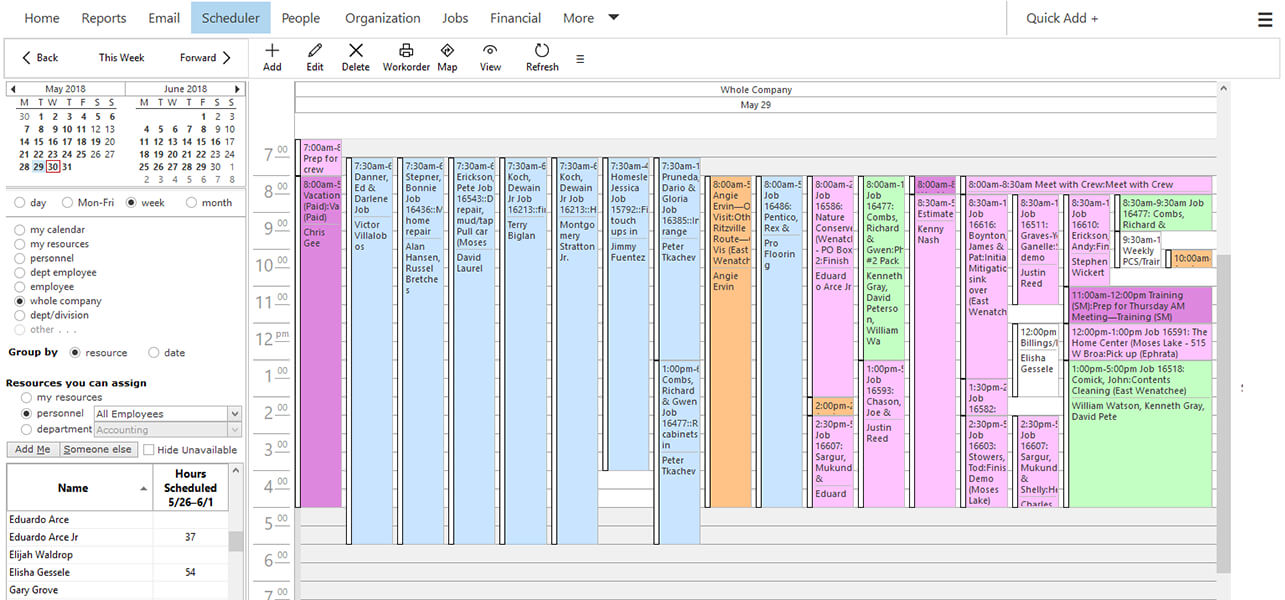 Documents
Never lose another document.
---
Chronicle's detail-rich job files organize every contract, job photo, spreadsheet, you name it, all in one place. Chronicle also creates custom documents which auto-fill customer information so you don't have to.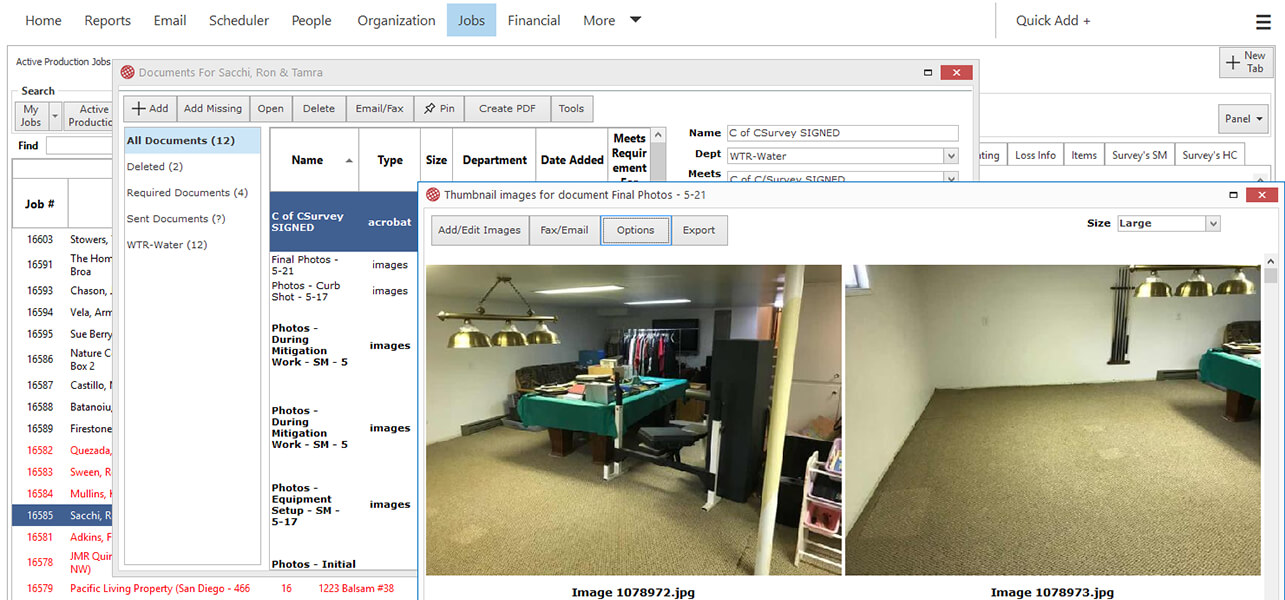 Mobile
Every job in the palm of your hand
---
Even while you're away you can access every job detail. Not only that, you can send job emails, capture job photos, track labor hours, check your schedule, and much more.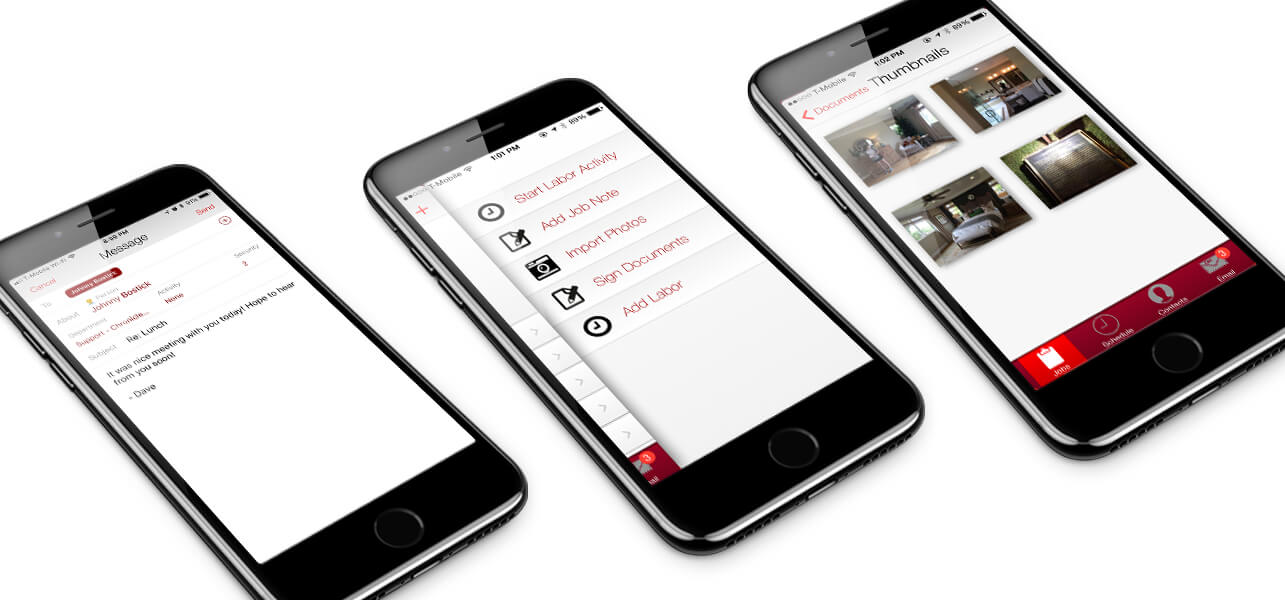 Job Management
An sky-high view to manage your job activities.
---
This report lets you manage the production process by looking at the status of activities on every job. Not only do you see everything that needs to be done, but you can also ensure job file completion.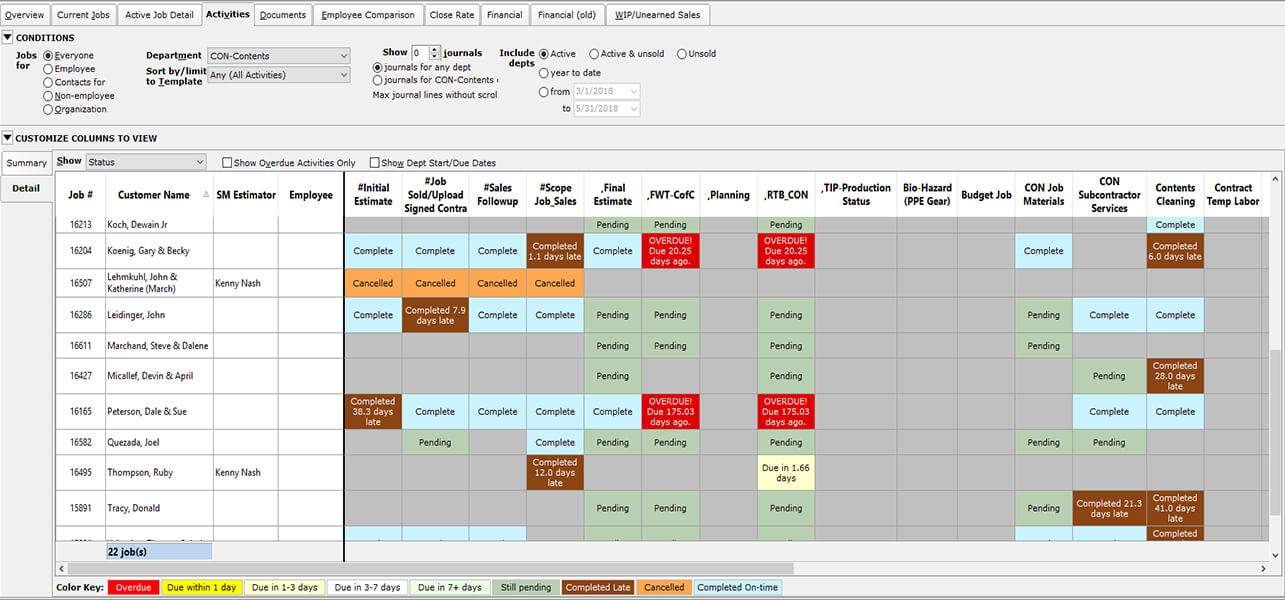 Job Analytics
Use analytics to improve your performance
---
Our Dashboards are a sophisticated way to surface helpful information. Here you can see, month-over-month, how many jobs came in, by source, and your general performance. The best part about the dashboards is that you can drill into the data, all the way down to the job file.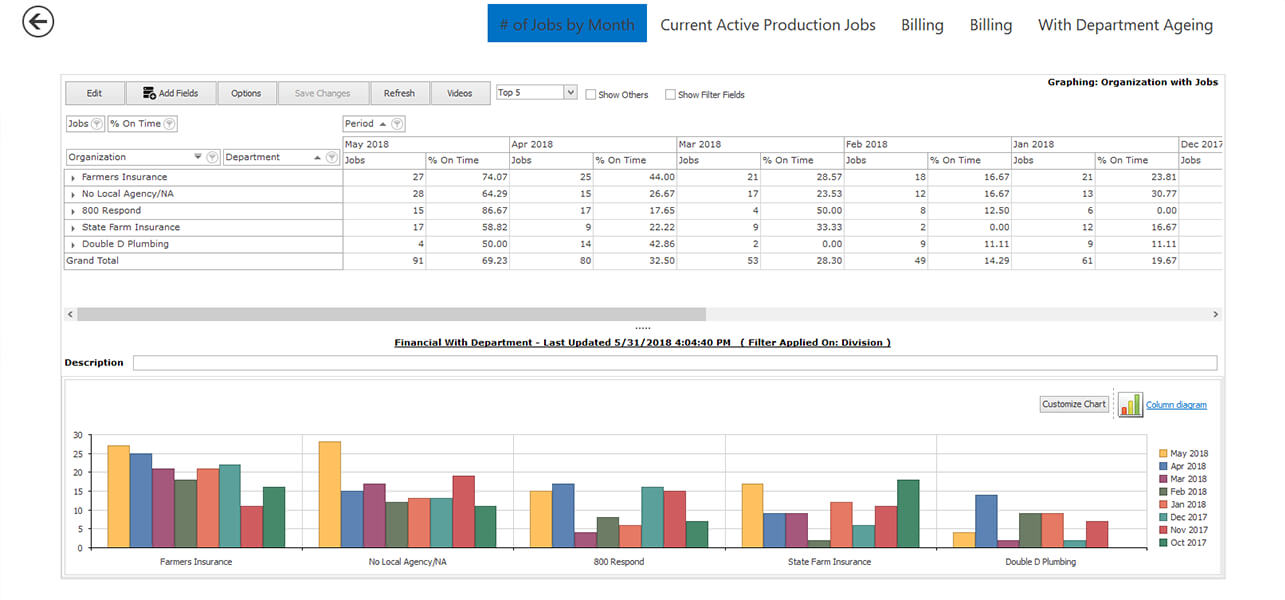 Financial
---
Amplify your financial oversight.
Chronicle's financial reports and tools give you unprecedented financial insight into your operations. Our collection manager lets you get paid faster. Our bonus manager incentivises your employees. And our QuickBooks integration gives you financial oversight like never before.
QuickBooks Integration
Fully integrated with QuickBooks Enterprise
---
Our integration with QuickBooks Enterprise opens up a world of opportunity. From individual job costing, various financial reports, bonus generation, and collections tools you'll be fully equipped to improve overall profitability.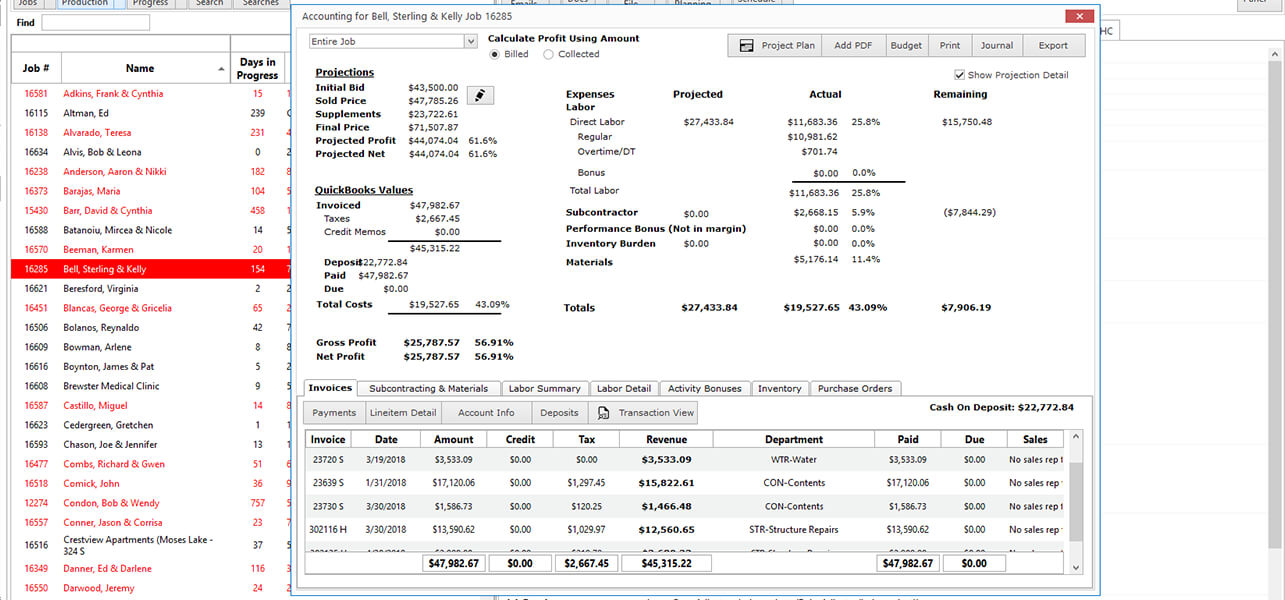 Financial Detail
Get a true picture of your operations financial performance.
---
With the click of a button, we give you an accurate and thorough financial report that instantly uncovers any mystery as to where your money is. Stop wasting time maintaining detailed spreadsheets, we'll do this for you.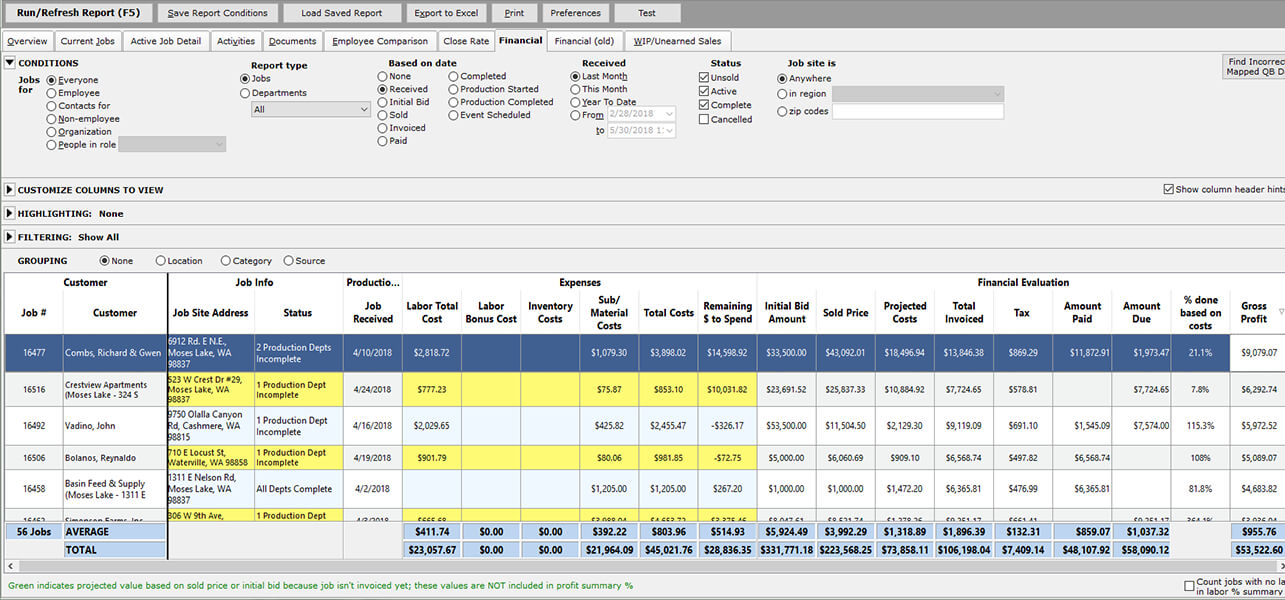 Work In Progress
See your work in progress—anytime.
---
Overcome the struggle of producing your work in progress numbers. We calculate labor hours, invoiced amounts, sub/material costs, labor burden percentages, and targeted gross profit percent so you don't have to. Now you can build credibility with your bank with current financial snapshots of your operation.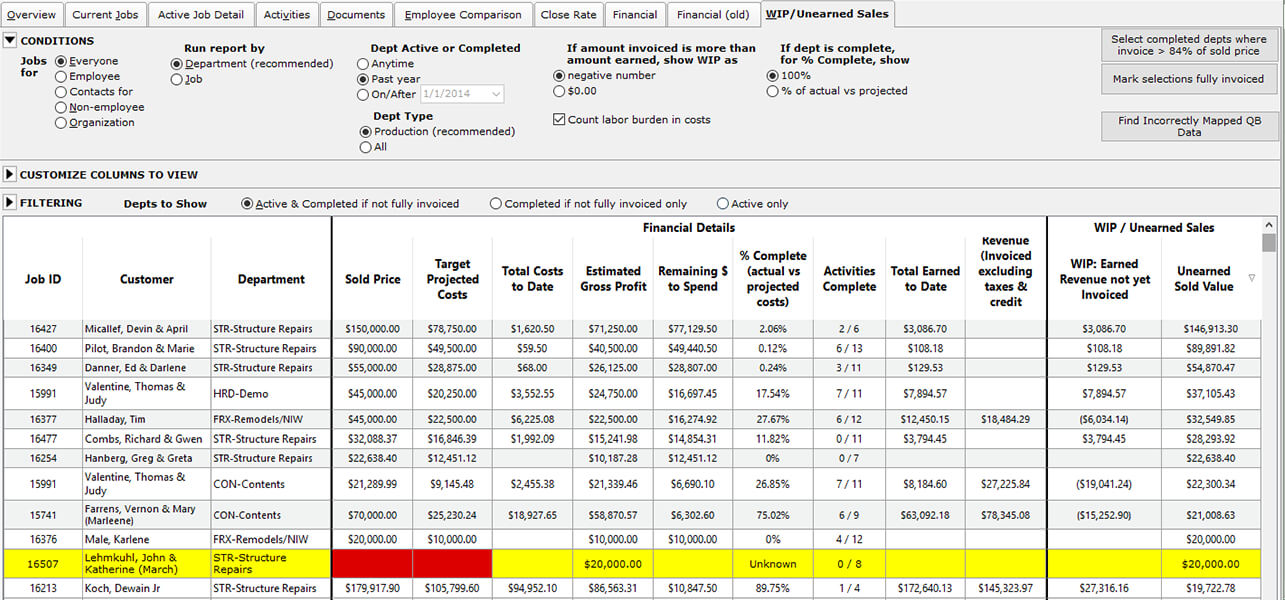 Collections
Get paid faster
---
We keep you on top of the collections process. Know the status of all invoices before you have a problem. Chronicle gives you immediate access to receivables without needing to go to anyone from accounting. You can immediately identify past due invoices, and you can filter out date ranges, invoices for an adjuster, and more.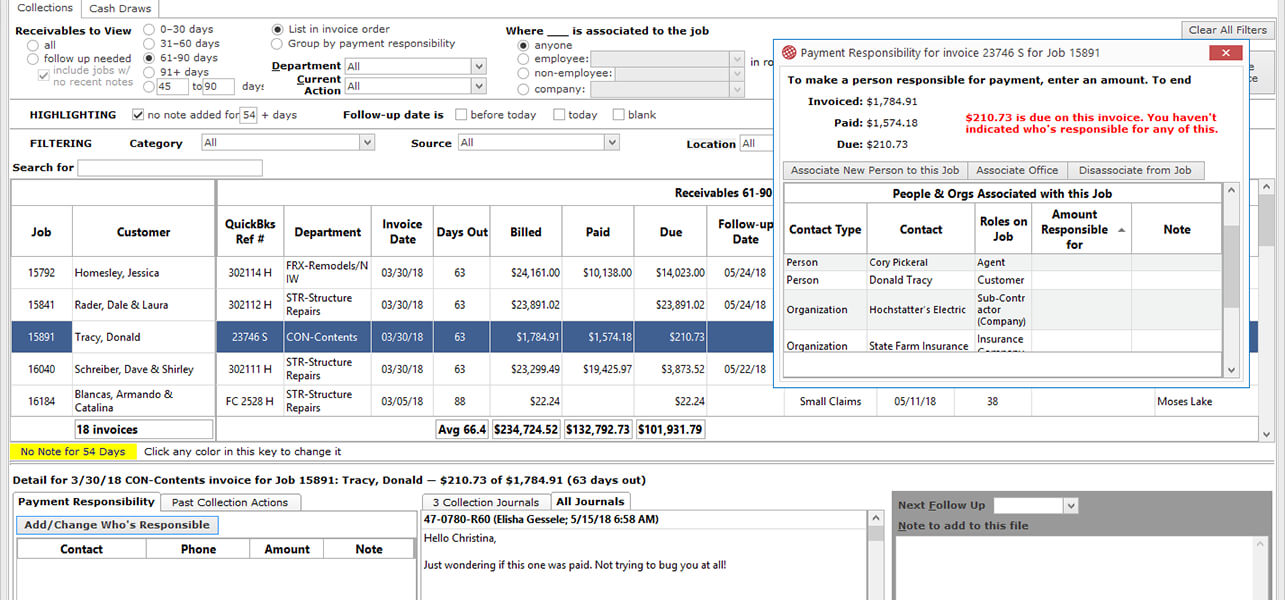 Bonuses
Increase employee motivation.
---
A good incentive program increases your company's profitability while also resulting in more satisfied employees. Chronicle's Bonus/Commission Manager lets you design a fair performance incentive plan that takes into account not only profitability but also completion, payment status, customer satisfaction, and job file management.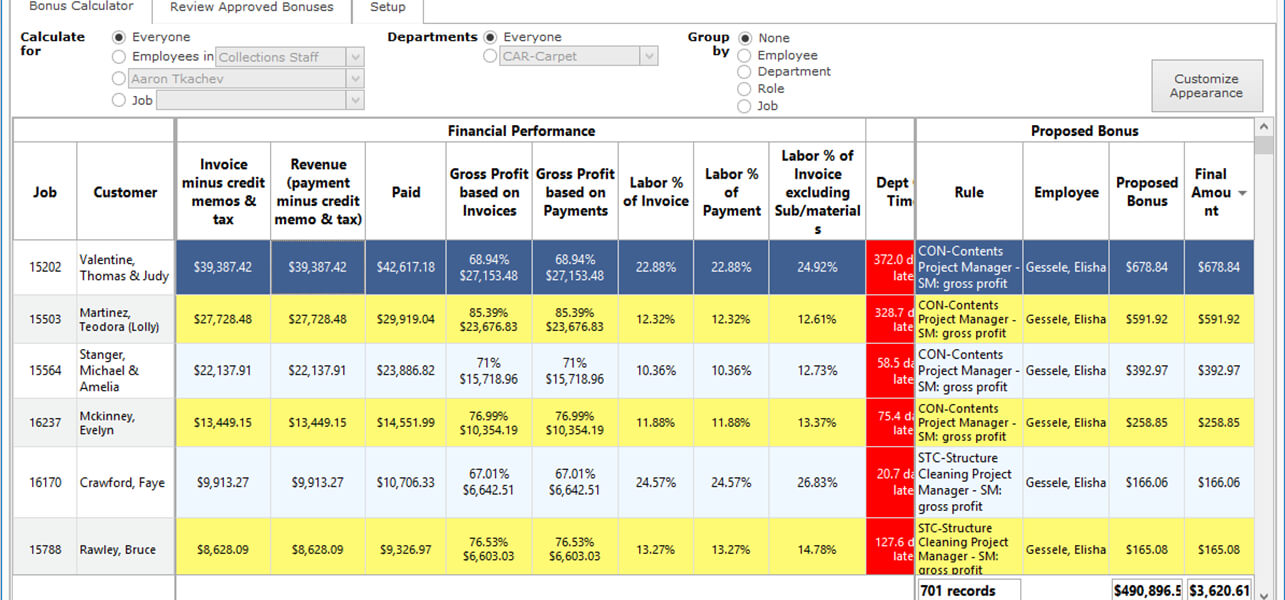 Labor Tracking
Digital time-sheets are better.
---
Chronicle tracks labor hours for every job and activity through the desktop client or our mobile app. For any given pay period, you can generate a list of total hours worked and dollar amounts for all employees. Payroll suddenly becomes much easier.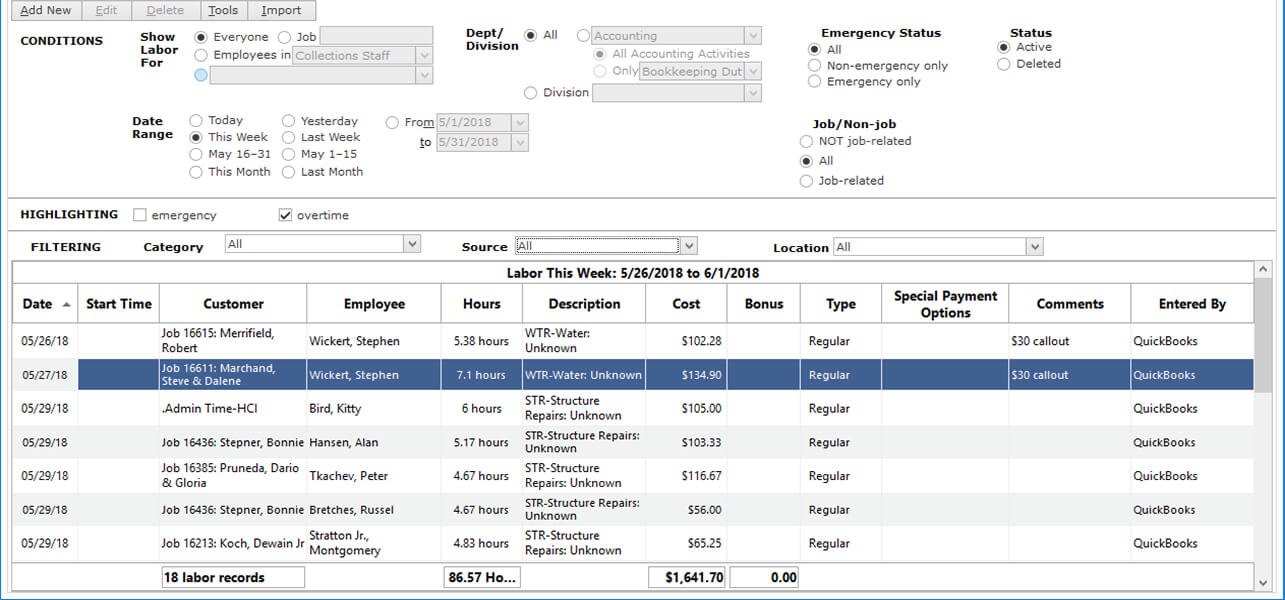 Overtime Evaluator
Get a handle on overtime hours.
---
When you're in the middle of a large work load, it's understandable that labor hours are going to increase. We make it simple for you to see exactly how much overtime you are paying out and to whom.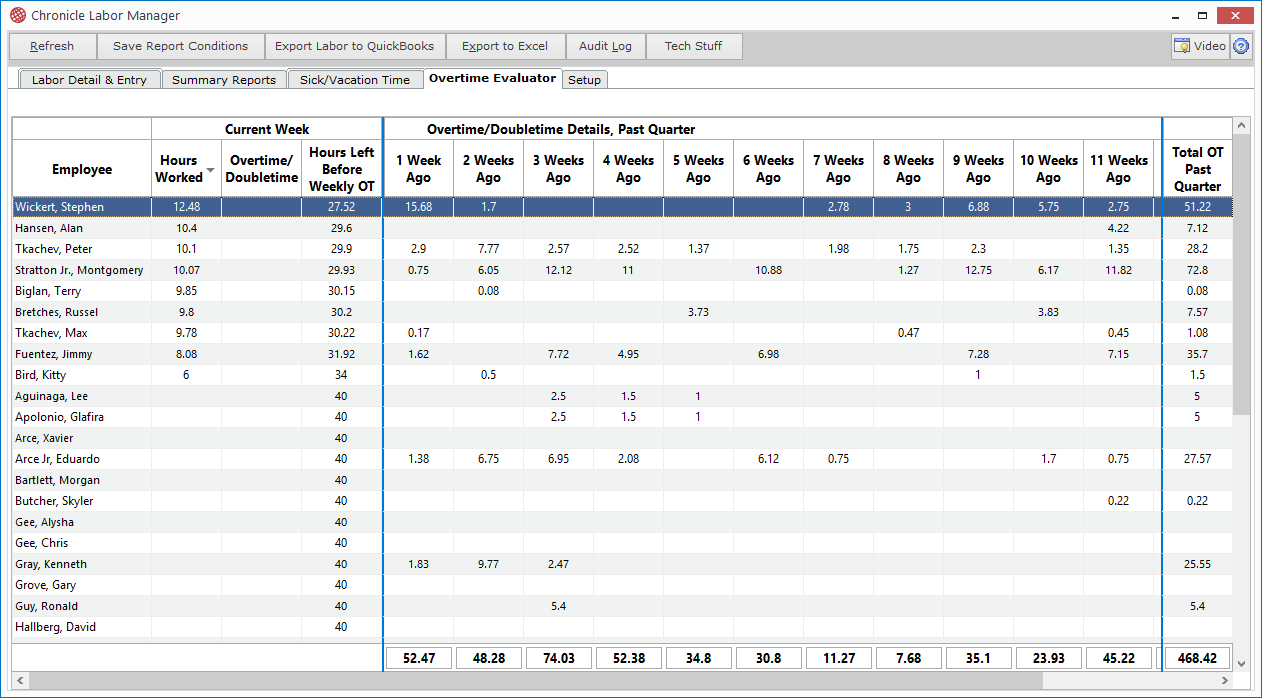 Frequently Asked Questions
What is a technician user?
Each plan includes 1 administrator user, and 1 technician user. Administrator users have access to every feature in Chronicle, while technician users only have access to the production tools.
Can I upgrade or downgrade at any time?
Yes. Chronicle is a pay-as-you-go service and you can upgrade, downgrade or cancel at any time.
How much storage do I need?
The average company uses approximately 3-5GB per year. The amount of storage required is directly related to how detailed your job files are and how many jobs your organization brings in every year. In the event that you need more, we provide it at an additional monthly fee.
Is my data safe?
We take security seriously. Our servers are hosted in a world class data center that is protected by biometric locks and 24-hour surveillance. We ensure that our application is always up to date with the latest security patches. Our data center is EU safe harbor compliant and all Chronicle plans include SSL encryption to keep your data safe.
How does the QuickBooks integration work?
We have a unique integration with QuickBooks Enterprise. Getting started, we can import jobs you've entered in QuickBooks Enterprise to Chronicle so you can hit the ground running.
From Chronicle we push: Customer name, Address, Email, Phone number, Job number, and Job description.
From QuickBooks we receive: Invoices, Credit Memos, Bills, Checks, Credit Card charges/credits, Received Payments, Journal Entries, Chart of Accounts, Item, Class, Customer, Employee, Vendor, and Sales rep lists.
Are there cancellation fees?
No. Chronicle is a pay-as-you-go service. We do not have any cancellation fees. You can cancel whenever you want with written confirmation. If you cancel, you'll be billed for the current month, but you won't be billed again.
Who controls my data?
You do! It's your data after all! We want you to be with Chronicle because you love using the product, not because your data is stuck in it. You can export all your information from Chronicle any time you need, in any plan.
What type of payment do you accept?
We accept Visa, Mastercard, Discover, American Express, and ACH/eCheck . We do not accept PayPal. At this time, we only accept payments online. We will not be able to accept purchase orders or orders over the phone. All of our payments follow USD pricing.